After a slower start to the year, the digital marketing landscape went through a number of interesting changes this past month. In the social media world, Facebook made a pair of announcements which could impact the way we market on their platform, while Snapchat's value took a hit after one of its biggest users questioned its worth. These were nothing compared to Google's reveals, which included new tools for site speed aficionados, changes to Image Search and a couple intriguing plans for AMP. Don't sleep on Bing's latest update, either; it looks like it could change the question-based search game for us all.
Learn about this news and more, in our February digital roundup...
Change or no change - that's the question for Facebook's latest Insights update
If you're in the digital marketing space, you probably heard about Facebook's change to Page Insights that, well, wasn't that much of a change at all. The difference is all in the calculation of reach measurement and how it's reported in Insights. Basically, the social media giant wanted more consistency in the way it measures and displays reach ("viewable impressions") for both organic and advertising (something that's been in the works since November 2017).
Facebook acknowledged that "some Pages may see lower reach figures than before," but the company made it clear that this is "not a change in News Feed distribution." However, Facebook also recognised that marketers may rely on the previous metric for reporting, so it's providing the old metric ("previous organic reach") alongside the new one ("new organic reach") for "the next few months." In other words: if what you're currently doing is working, don't sweat over this "change."
Facebook's newsfeed goes back to its friend-focused roots
And now for a change that will definitely have an impact. Facebook revealed it's going back to its original plan: keeping family and friends connected without the noise of other, non-"friended" users. The goal is to reduce the amount of "public" content in a user's newsfeed, which could lead to reductions in organic reach.
However, as our Ian Hyde wrote in a recent article on this Facebook update, this shouldn't have any impact on digital marketers' paid advertising. He also noted that this change to the news feed should serve to reinforce the better habits of marketers, which is making sure that we're all providing the most relevant and engaging content possible (and not simply trying to trick people into clicks).
Ian did note that there could be a potential overall impact on paid ads—Facebook could explore new space outside of the news feed, for instance—and how they're perceived. To combat that, Ian recommended that we all, again, endeavour to make highly relevant ads while also avoiding overly segmented audiences (keep it broad).
Snapchats share has dropped - thanks, Kylie Jenner!
Never underestimate the power of a tweet. As Bloomberg pointed out, reality TV star/social media influencer Kylie Jenner may have taken some big-time wind of out Snapchat's sails with… a tweet. Apparently the photo-sharing app's parent company saw a loss of $1.3 billion in market value (a 6.1 percent drop) on 22 February after Jenner asked her 24 million+ Twitter followers if anyone uses Snapchat anymore the day before.
sooo does anyone else not open Snapchat anymore? Or is it just me... ugh this is so sad.

— Kylie Jenner (@KylieJenner) February 21, 2018
Bloomberg then pointed not just to Wall Street analysts but Jenner's followers, who all agreed that the platform is starting to lose a bit of its luster following a recent redesign. Their sentiment coincides with that of reviewers, many of whom haven't been particularly kind with their words on the redesign.
It'll be nothing short of interesting to see where Snapchat and its parent company (Snap Inc.) end up in the coming months.
Understand your site speed with Google's new Speed Scorecard & Impact Calculator
Earlier this month, Google introduced two new tools to help businesses fully understand where they sit when it comes to mobile site speed (Speed Scorecard) and how their slower site could be losing them money (Impact Calculator).
In terms of the Scorecard, it allows you to compare your website to thousands of competitors around the globe to see how you stack up. This information can further help digital marketers make the case for whether your client's site may need changes, even small ones, to make sure users aren't clicking away because of lengthy load times. The Impact Calculator works in tandem with the other tool, because it shows the potential annual revenue change that could occur if a site's speed increased.
These tools are both pretty simple to use, and you can head over to Google to check them out for yourself.
Speaking of pagespeed, we've recently shared how we increased our own Wordpress speed by 55% if you fancy finding out how exactly we did it (and how you can increase yours too, of course).
Google Image search changes
Google implemented two big changes to its Image search functions as a way to "help connect users and useful websites," per Google's own Danny Sullivan (on his alias Twitter account). Both actions serve as removals of prior functions, as both the "View Image" and "Search By Image" buttons are no more. If you're wondering, yes, you can still perform reverse image searches through the search bar.
Today we're launching some changes on Google Images to help connect users and useful websites. This will include removing the View Image button. The Visit button remains, so users can see images in the context of the webpages they're on. pic.twitter.com/n76KUj4ioD

— Google SearchLiaison (@searchliaison) February 15, 2018
This news came out of the search giant's recent agreement with Getty Images, which included making sure that that Getty contributors' work is properly attributed. And in short, the removal of those Google Image buttons makes it more difficult for users to save/download copyrighted works and publish it on their sites (or elsewhere) without giving credit (or paying licensing fees).
Some are speculating that this will have a positive impact on publishers, particularly those in the stock photo business, and it'll be interesting to see if that is indeed the case (along with how Google reacts to some clearly unhappy users in that Twitter feed).
Bing launches multi-perspective answers with AI
Hot yoga is more than just a fitness trend—it's also the inspiration behind the latest update to how Bing uses AI to provide users with multi-perspective answers. As Bing's own Mir Rosenberg tells it, she was curious about hot yoga and its potential benefits and detriments, and in searching for both realised that users may want to see both sides of a search in a single search.
As a result, Bing users can now get multiple perspectives on whether they're drinking too much coffee or if they're unsure about which cholesterol is the "good" one. It's all part of the Microsoft team's goal to provide more viewpoints within searches like these, all while utilising AI technology to steer the ship. According to them, this is just the beginning of the roll out of multi-perspective answers, with more coverage and expanded use coming soon (like in the U.K. in the next few months).
Bringing the power of AMP to Gmail
Google's AMP (Accelerated Mobile Pages) initiative has been on our (and the industry's) radar for several years now, and this past month the search giant announced plans to make another part of the web even faster. Although it's only in the Gmail Developer Preview stage at this point, Google has revealed its "Amp For Email" project that aims to "create more engaging, interactive, and actionable email experiences."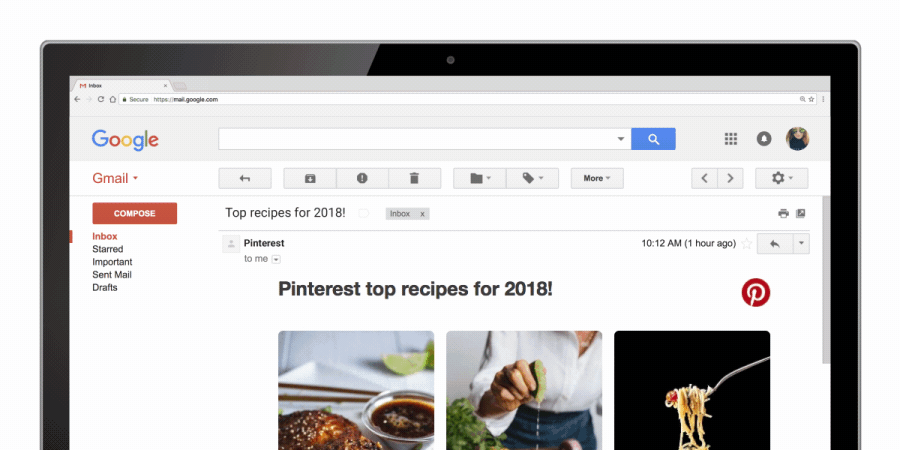 The goal is to make using email—and the various tasks lurking within—into a more seamless experience. Google provided examples of how this could happen, such as responding to an RSVP directly in an email or filling out a questionnaire without having to open a new tab or window. Apparently companies such as Pinterest and Doodle are already working on ways to use Amp For Email, and any curious developers can learn more about the campaign here.
If you're keen to try this out for yourself, you can sign up via Google.
Google launches AMP stories & visual stories in mobile search
For its second round of AMP news in February, Google launched its AMP stories format for publishers looking to provide users with even more attractive content on mobile. As the company explained, it teamed up with a group of publishers (including Conde Nast, Hearst, and Vox Media) to build something that is visually enticing but still tells a story. And you can actually search for those publishers to see what they've put together so far.
Also, the company's goal is to make it as intuitive as possible by providing standardised templates and components for publishers, though the announcement also stressed that there is plenty of flexibility for brands to make this their own
Any developers and content creators keen on trying out AMP stories can do so by checking out Google's documentation and tutorial.
Google also noted that AMP stories will be used across more of its products, so keep an eye out for that!
Want more? Check out these other top stories from the month:
SEO:
PPC:
Paid Social:
Learn about our free, personalised insights club