September may have brought cooler temperatures and the changing leaves, but one thing remains constant (and rather heated) - the news in the digital marketing world. Google made several big announcements and changes to the way they do things in search and paid media, and both LinkedIn and Microsoft stepped up to bring people into their advertising platforms. Keep reading to learn about these stories and much more in our latest digital roundup.
SEO stories
Google adds timeline feature in videos for users to find key moments
From how-to videos to political speeches and everything between, YouTube is a seemingly bottomless resource for the information we all crave. And sometimes, it can be difficult to find exactly what you're looking for when searching through it all. Well, Google Search (in English, so far) now includes links to those "key moments" in YouTube videos so they're easier to access.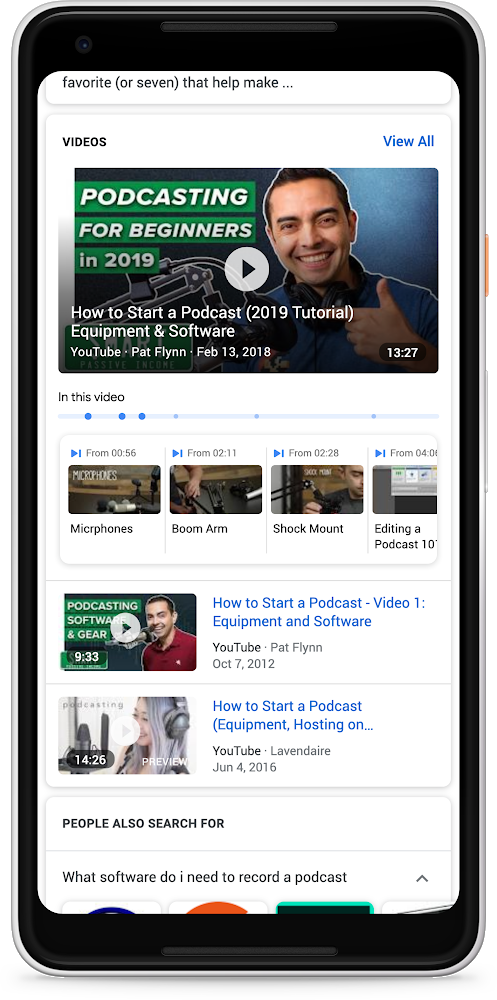 Of course, for those key moments to appear in the results, YouTube content creators need to provide the necessary timestamps in their video descriptions. As explained in Google's blog post on this feature, it makes video content easier to scan while also making it more accessible for those using screen readers.
New Google search algorithm gives preference to original reporting
As part of a Google Search algorithm update this past month, the company explained that their goal is to help original reporting rank better and for longer. As a result, this type of content will be elevated not only in Google Search but Google News and Google Discover as well.
In a blog post on the algorithm update, VP of Google News Richard Gingras explained that the company also changed some of their related rater guidelines. These changes reinforce Google's aim to highlight original reporting by making sure the content in question is "very high quality" and comes from a reputable publisher. It's "all about helping people stay informed about the news that matters to them," Gingras wrote.
Majestic upgrades tool to give backlinks more context
Majestic rolled out an update for their tool that provides much more insight and context about backlinks. In particular, they added a new "Link Context" tab that contains information including a visual graph that represents where the links are placed on the page while also categorising them as internal or external. 
The tab also provides the text surrounding the link and showcases the link density information for each linking domain. Majestic wrote on their blog that they hope this additional context can make the link prospecting and auditing processes much easier for their users.
Google reveals improved Search Console performance reports
Google Search Console's performance report feature has been updated to provide fresher data to users. Now, instead of waiting until Wednesday to view performance data from the previous weekend, Google says that users can log-in that Monday morning to access the information they need. This will certainly come in handy after major retail holidays and big events.
Google also updated the report to clearly indicate the timezone (Pacific Standard Time) in which the data is collected. Plus, users can now export the report data within the desired time frame, so it's easier than ever to see how your site is performing over a set period of time. You can find out more about these performance report updates at Google's Webmaster Central Blog.
Structured data for breadcrumbs now in GSC
Google Search Console received yet another update this past month, and this time it was in the form of breadcrumb structured data reports becoming available under the enhancements section. The update, which was announced via Twitter, allows GSC users to see if their site's breadcrumbs are having any issues. If so, the report will inform you that something's up, so you can take care of it (and keep your site's hierarchy intact.)
Paid Media stories
Google launches revamped Shopping feature
The newly revamped Google Shopping experience is now available as of this writing in the U.S. on mobile and desktop, and it functions as a one-stop-shop for all your, well, shopping. Seriously, these changes have basically changed the platform into a fully functioning Amazon competitor.
To start, the Google Shopping homepage is now personalised to show previous orders and recommended items, and it allows you to make purchases how you want (at a retailer, online, or through the Google platform). You can also track prices to make sure you get the best deal possible, and you can see if participating local stores have the item you want.
You can learn more about these changes to Google Shopping on the company's blog, The Keyword, which includes their plans to help offset carbon emissions.
Instagram testing "try-on" AR ads
Instagram is back with another ecommerce feature for a select group of brands currently selling products through the platform. Much like Facebook's augmented reality (AR) ads before it, Instagram is allowing some eyewear and beauty companies to use AR to further entice consumers to buy a new pair of glasses or lipstick.
The way it works is simple: by connecting to your phone's camera, the Instagram ad pulls up a filter that lets the user select which colour or pair of frames looks the best. Then, the user could buy the item through the integrated checkout feature, which launched in beta form earlier this year.
Instagram plans to allow more brands to use this feature in the coming months, so keep your eyes peeled (if you or your client is into that kind of thing, of course).
Microsoft Advertising introduces new targeting methods
Microsoft is testing a pair of new targeting methods for its Advertising platform, and they both aim to "to pinpoint your ideal customers when they're ready to buy." First, there are Product Audiences, which Microsoft hopes will lead to higher conversion rates and a lower cost per acquisition. It's a remarketing feature for shopping campaign that centres on displaying ads based on products that a customer has interacted with.
The second method is Similar Audiences, which also seeks to improve conversion rates. It's a look-alike feature that automatically locates new customers who are similar to the customers on an existing remarketing list.
If you or a client uses Microsoft Advertising and want to learn more, read the company's post on these new methods.
LinkedIn improves audience targeting for campaigns
LinkedIn revealed that they're bringing audience forecasting and new targeting logic for building audiences to the Campaign Manager dashboard. With audience forecasting, advertisers can now quickly and easily view the demographics of their target audiences. This also includes more specific data such as the industries and company size.
As for the new targeting logic, advertisers can now use Boolean logic terms (and/or) to create their queries. LinkedIn's Abhishek Shrivastava explained in a blog post that this change allows users "to reach more of the right audiences through more sophisticated combinations of profile facets like job function, seniority, and titles — all in a single campaign."
At the end of the post, he added that these features also help advertisers see the value in their campaigns while providing them with insights to make changes where necessary. You can learn more about these updates to LinkedIn's Campaign Manager on their marketing solutions blog.
Learn about our free, personalised insights club