December 2019 Digital Roundup
Happy New Year, digital marketing aficionados! As we all reflect on what we accomplished in the past year and what we hope to do in 2020, we must also think about what went down in the industry last month. Yes, things may slow down to a standstill during the holidays, but December 2019 had its fair share of important news items that we've collected here for you to enjoy. Let's get into it.
SEO stories
Google confirms using neural matching for local search results
Google confirmed that it began to use neural matching in local search results this past November to help better understand queries with local search intent. This news arrived in a series of tweets that explained why this new methodology is particularly useful and why users should care about it.
In early November, we began making use of neural matching as part of the process of generating local search results. Neural matching allows us to better understand how words are related to concepts, as explained more here: https://t.co/ShQm7g9CvN

— Google SearchLiaison (@searchliaison) December 2, 2019
As Google explains, neural matching helps their search engine "do a better job going beyond the exact words in [a] business name or description to understand conceptually how it might be related to the words searchers use and their intents." The best part is that webmasters, such as small business owners who rely on local search results, don't have to do anything to benefit from this update.
That said, if you're looking for ways to improve how your site performs in local search, Google recommends checking out their Google My Business guide.
Google introduces new Search Console messages
Google rolled out a series of Search Console updates that aim to streamline the messages feature and make it easier to use. Remember how you had to leave a report to view your messages? Not anymore, because the first change makes it so you can view messages as part of a panel in your browser window.
Messages are also now categorised into different types, including Coverage, Enhancement, and Performances. Plus, you can access any messages that were previously sent to your site, regardless of when they were verified and sent. Want to know more about these changes? Head over to Google's announcement on their webmaster blog.
Yandex releases Vega algorithm update
Yandex rolled out an algorithmic update named Vega which introduces around 1,500 improvements to the search engine. One particularly noteworthy portion of this update is the promise of a bigger and faster index because it now uses neural networks to group similar pages into clusters. This means that when a user searches for a query, only the relevant cluster of pages is searched instead of the whole index. According to Yandex, "Using the clusters frees up more computing power for our search engines, we've doubled the size of our index without slowing the speed of searches."
Another big change is that Yandex is using machine learning and human specialists to deliver higher quality search results. Previously, the company used "assessors" to help train their machine learning platforms and, as a result, help find the most relevant search results. With the Vega update, Yandex says, "Specialists in their respective field now evaluate the work of these assessors, and our deep learning neural networks then receive these expert evaluations." In other words, this allows Yandex to serve more relevant content in search results.
Want to know more about the Vega update? You can read Yandex's full announcement on their blog.
Google rolls out BERT to over 70 different languages worldwide
You may remember that BERT, aka Google's natural language algorithm, launched this past October. You may also recall that, at launch, it was only available for English language queries. That all changed this past month when Google revealed that BERT is rolling out to more than 70 languages worldwide.
BERT, our new way for Google Search to better understand language, is now rolling out to over 70 languages worldwide. It initially launched in Oct. for US English. You can read more about BERT below & a full list of languages is in this thread.... https://t.co/NuKVdg6HYM

— Google SearchLiaison (@searchliaison) December 9, 2019
For the full list of languages that range from Afrikaans to Vietnamese, you can read Google's Twitter thread about the update. And if you want to know more about BERT or simply need a refresher, check out Google's initial announcement.
Google SERPs now display multiple carousels for news stories
Google changed how it displays news stories in the search results as their latest effort to make "it easier for people to dive into the most useful, timely articles available." When searching for a query like "NASA news," for example, the SERP will display multiple carousels filled with news stories on the same topic.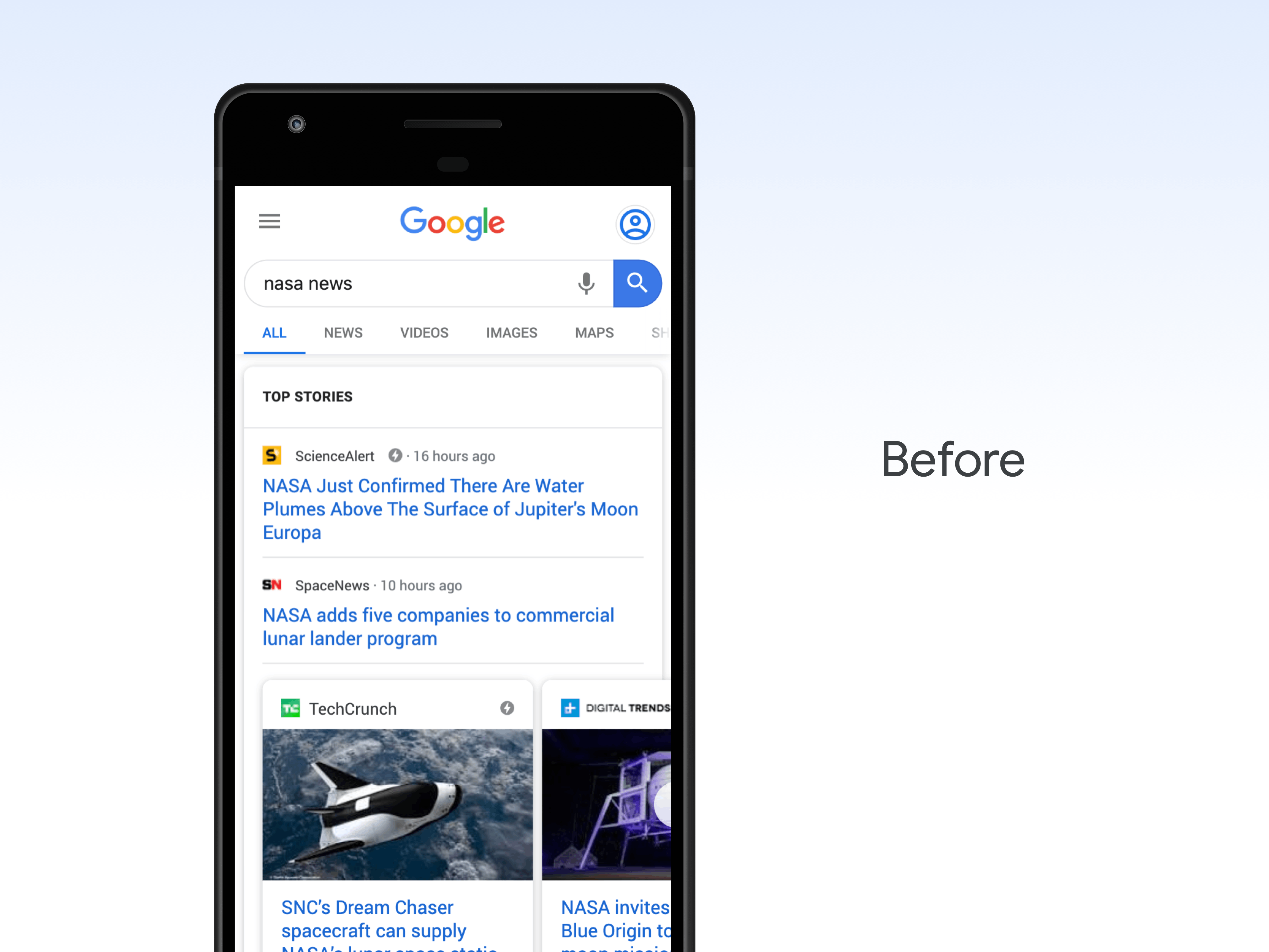 According to Google's announcement, they say "the new structure will make more room for high-quality content—beyond just the most recent coverage—as well as more diverse sources, to bring more context and perspective to the day's news."
Some of that high-quality content includes "key information, such as notable quotes and related opinion pieces," in the news carousel. As of this writing (6th January 2019), this update is available on mobile for English language users in the U.S. There are plans to bring it to more languages and locations soon, so stay tuned.
Bing partners with flight booking sites
Bing teamed up with a number of flight booking websites to create a frictionless travel booking experience within the search results. For example, searching for "flights to Las Vegas from New York" yields a tool where you can search, compare, and book flights all in one place.
Fittingly, Bing revealed this new feature just in time for the holidays, when finding a flight to visit family is just another stressful part of an already stressful experience. They use real-time data and direct integration with the flight booking sites to provide a seamless user experience that's also comprehensive. You can choose a flight based on a number of stops, airline, departure and arrival times, and price before clicking through to finish your purchase at a partner site.
You can read more about Bing's new travel initiative at their Bing Search Blog.
Paid Media stories
Quora adds lead gen forms for marketers
The Q&A platform Quora is in the midst of beta testing a new feature that adds lead generation forms to the interaction between users. As the company noted in their announcement, this could be beneficial for marketers whose products could serve as the solution for particular queries.
In one example of the lead gen form working well, Quora provided information from an American university that successfully got in touch with prospective master's degree students. In another, an agency surpassed its cost-per-lead goal while reaching quality clients.
You can learn more about this new feature in Quora's announcement post, and you can sign up for the beta by completing this form.
Google optimisation score extended to Display
After previously providing optimisation scores for Search and Shopping campaigns, Google Ads has rolled out this feature to Display campaigns. The score ranges from 0 to 100 percent, takes into account factors such as bid automation and targeting, and it's available on a campaign-by-campaign basis. Plus, you can obtain an overall score that takes into account all of your Search, Shopping, and Display campaigns.
This feature also includes automated recommendations that can improve your score in specific increments, but be sure to review them thoroughly before implementing them. If you'd like some tips on how to improve your approach to Ads—and your scores, as a result—check out Google's guide.
Facebook dynamic ads expanding formats
Previously, Facebook dynamic ads were available to be built as carousels, image, or collection ads, and the products shown in those ads were "dynamic" based on data signals. But now, marketers can build dynamic campaigns that show whichever of those three formats is the best fit for the user. Just like the past iteration, this new take on dynamic ads is based on data signals, and it can all be accomplished through a single campaign.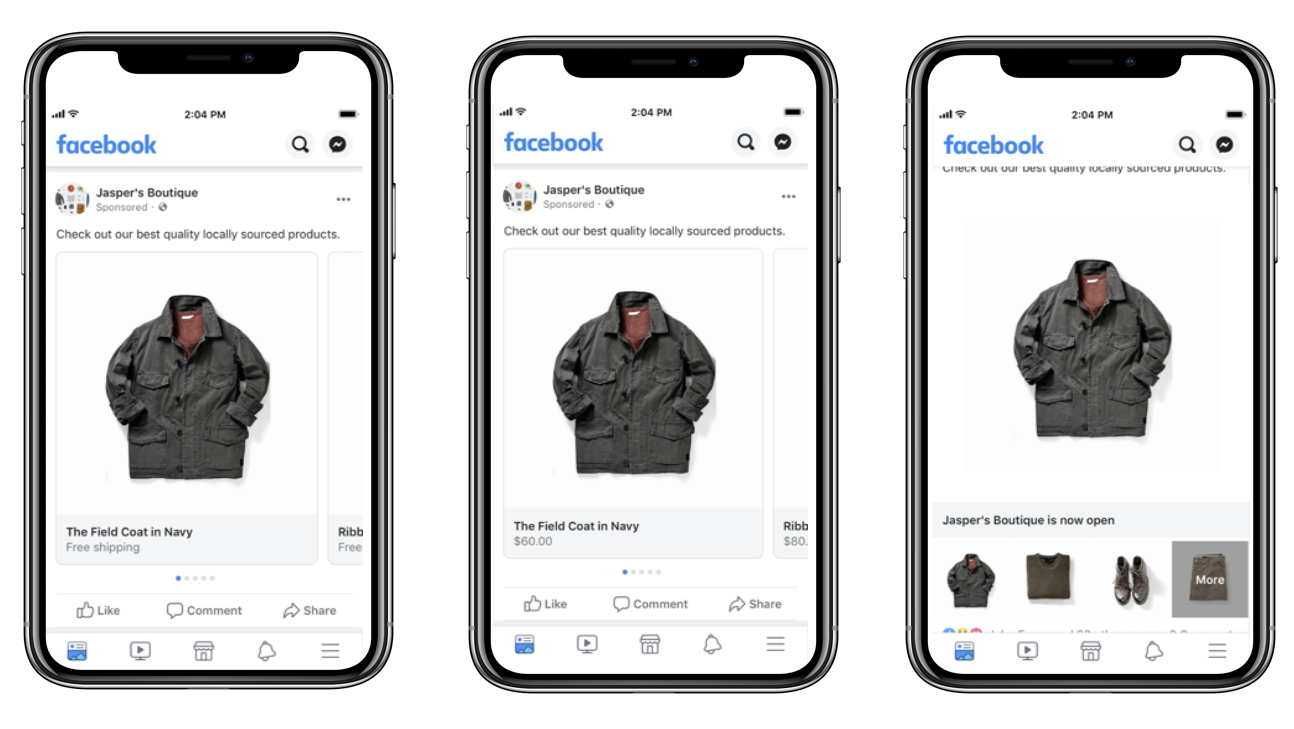 This is all a great step forward for advertising on Facebook and making sure the best possible ad gets in front of potential customers. And if you want to learn more about how these ads work and how to implement them, read through Jon Loomer's guide.
Facebook acquire tech to enable live video shopping
And in more Facebook news, the company quietly acquired a video shopping startup, Packagd, to build out the social networking platform's ecommerce-related activities. In particular, they're working on a feature that would allow Facebook users to make purchases directly from live video broadcasts.
Packagd was previously building a similar product for YouTube that they likened to a new version of QVC, according to Bloomberg. But now this live shopping project is in the works for Facebook Marketplace, which reportedly has nearly 1 billion active monthly users.
If you'd like to know more about this, you can read Bloomberg's full story.
TikTok testing social ecommerce ads
For our final story, we're dipping back to November 2019 with news from TikTok, the uber-popular social networking platform that's working out exactly how to monetise itself. So far, they're testing the waters of letting a small group of influencers add links to their bios and place ecommerce URLs in videos. By clicking the link in the URL, the user can make purchases directly in the app (similar to what Instagram added earlier in the year).
As Social Media Today noted, this move by TikTok could help them catch up to Instagram and Snapchat in terms of letting influencers and creators monetise their content. It'll definitely be interesting to see if these tests get a full rollout in 2020, so stay tuned for more news in the coming months.
Learn about our free, personalised insights club