August 2019 Digital Roundup
We had another busy month in the digital marketing landscape this past August. The headlines were dominated once again by the two biggest players, Google and Facebook, who made several major announcements including an algorithm update and a new companion app. That being said, we can't discount the news from Bing and how they're making things easier for webmasters.
Continue reading to learn all about these stories and much more in the latest digital roundup! 
SEO
Google rolls out algorithm update for more timely information
When you search for "upcoming school holidays" on Google, chances are you want to see results that reflect the current year, right? Of course you do, but that wasn't always the case. Sometimes, Google would respond with featured snippets showing 2018 holidays, for example, which isn't exactly helpful if you want to see when your kids will be out of school later in 2019 (or even 2020!).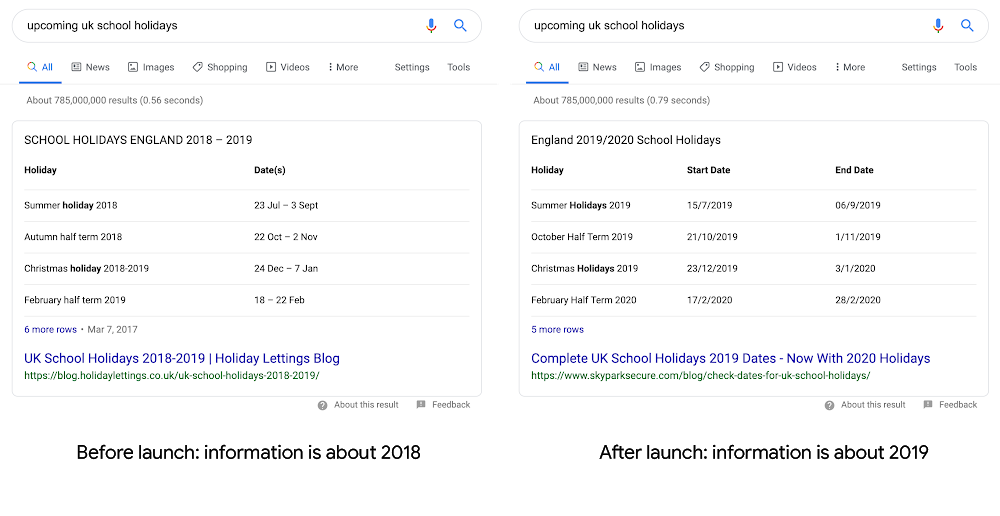 To fix this issue, Google updated their algorithm to provide more timely, up-to-date information to users, especially in the form of featured snippets. In their blog post on the news, they gave a batch of examples where this would be particularly helpful (beyond the aforementioned holidays). From the latest food recalls to a TV show's premiere date, there are plenty of reasons why this update was necessary.
Google Search Console tools support the latest version of Googlebot
When Google deployed an evergreen version of their crawler, Googlebot, this past spring, the search giant didn't also update the Google Search Console tools to reflect this change. As a result of this lack of parity, the tools didn't provide a fully accurate impression of what Googlebot was seeing on the page.
This all changed this past August, however, when a recent update was rolled out. As a result, the tools now "reflect how Googlebot processes your pages as closely as possible." If you want to know more about the specifics, you can read Google's post on the support update.
Bing Webmaster Tools adds new site verification method
Bing has added support for site verification using the Domain Connect open standard to make the process easier for some webmasters. As of writing, this method is now live for domains hosted on the following DNS providers: 1&1 IONOS, GoDaddy, Media Template and Plesk.
According to Bing, they plan to expand this method in the future to other DNS providers that support Domain Connect. This will provide what they call a more "seamless" verification process for webmasters who want to be able to use their Webmaster Tools. 
On that note, Bing also introduced a beta feature that allows webmasters to skip the site verification process by importing their site from Google Search Console. This simplifies the process even further for site owners, who Search Engine Land says will see the option to import via GSC after logging into Bing Webmaster Tools.
GSC API removes more app features
Google announced that they have done some cleaning up as it pertains to the existing Search Console API. In particular, they removed the following app search appearance types: Is Install, Is App Universal, and Is Opened.
In a blog post on this update, Google also said for the Sitemaps API, they will "no longer [populate] data on indexing status of submitted sitemap files in the 'Indexed field.'" The company remains committed to the GSC API and they said that they're working on updates, though it's not clear when we'll see those changes.
Paid media
Instagram is developing a new messaging app, Threads
It looks like a new companion app for Instagram is on the way, according to reports from The Verge. The app is called "Threads" and it's apparently "designed for sharing with your 'close friends' list on Instagram.
Threads is also being referred to as Facebook's (which owns Instagram) "latest assault" on Snapchat, which maintains strong numbers in two key categories. In addition to its strong younger user base, The Verge reports that users, in general, spend more time within Snapchat compared to Facebook and Instagram. 
While no one at Instagram commented on this news, the new app is reportedly being tested internally at Facebook. Hopefully we'll get some more news about Threads before the month is over.
Facebook tests more prominent Pages Stories placement
We have some more big news from Facebook as the social media giant began testing top-of-the-feed placement for Pages Stories. You may have noticed that your feed already had your friends' Stories at the top, and for some users they're now being joined by their Liked Pages.
It's unclear if and when this will become a permanent change to Facebook, but if it does happen, it represents a huge opportunity for promotional activity. We highlighted the importance of Instagram Stories for businesses in an article more than two years ago, and it goes without saying that the same holds true for Facebook.
Google announces two notable changes to Ads
Google revealed plans for not one but two changes to its Ads platform as a way to further reduce the information coming from Ads and to take more control over bidding. 
First, they're switching things up for search and shopping campaigns, which will only have standard delivery available as of 17th September. Google is doing away with accelerated delivery because they say "it isn't effective for campaigns that aren't limited by budget." You can read more about this update on the corresponding help page.
As for the second change, Google is removing the average position metric as of 30th September. We've known this was happening since this past February, but we didn't have a specific date until now. As we advised then, it's best to get familiar with the replacement metrics that the company outlined when making this announcement.
Facebook adds lead generation to Messenger
To close out the month, Facebook announced the global rollout of lead generation to Messenger for advertisers. This new feature essentially makes it even easier for businesses to connect with potential customers through ads. 
All you have to do is create ads that enable click-throughs to Messenger, which allows the customer to begin an automated chat with your business. During that conversation, you can provide selected responses or allow for a more free-form convo with the customer. Once your set conversation requirements are fulfilled, the customer can then engage with your customer service provider.
Facebook says they've seen great results from businesses utilising this feature to date, and you can learn more about how it works on their Business blog.
Learn about our free, personalised insights club